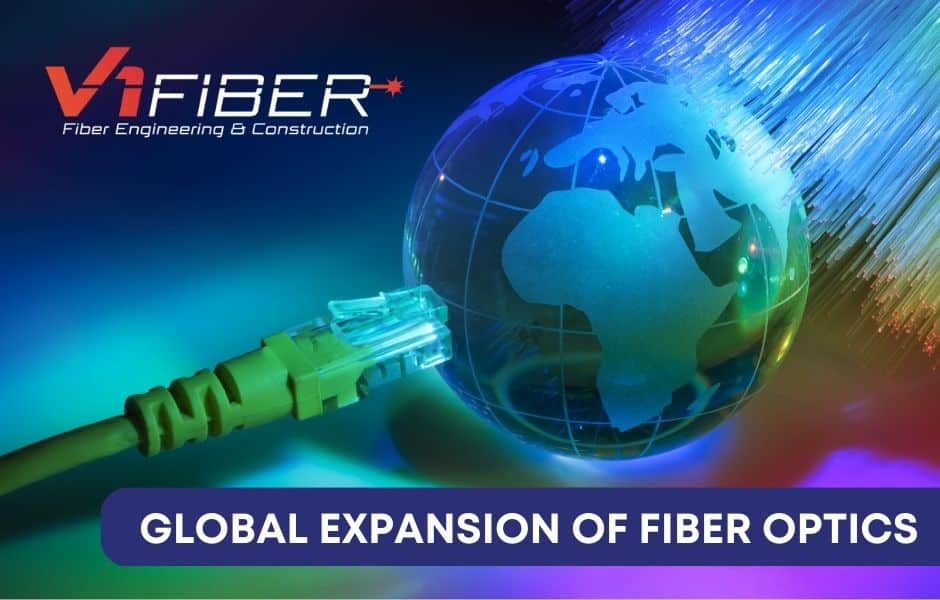 How Fiber Optics Are Spreading All Over the World
Fiber optic technology is facilitating big changes in digital communications throughout the global economy. It is providing entire regions with new, cutting-edge communications resources while also giving individual companies the tools they need to be successful. Here are some of the most important ways this technology is spreading across the globe.
Connecting More Countries to a Global Marketplace
In various parts of the world, outmoded and underdeveloped technology has represented an obstacle to participation in the global economy. Slow internet and major gaps in carriers' service areas are especially problematic in geographic regions that have historically contended with systemic, pervasive inequities in their ability to advance economically.
Disparities in connectivity perpetuate these inequities, but the increased use of fiber optic technology could make a big difference in creating a more even playing field. In effect, regions that traditionally had relatively limited outlets to engage in international commerce and thereby remained fairly isolated can enjoy a new inroad to participate in a global marketplace.
In addition to benefiting commercial development, this is a huge win for individuals and families. With better connectivity, they can purchase competitively priced goods from online retailers rather than limiting their purchases to local merchants. Likewise, people may enroll in educational programs that are based online and work on cultivating modern, in-demand job skills. Furthermore, a growing percentage of a country's labor force is able to seek out and maintain good employment opportunities for work that they can do remotely.
Meeting Soaring Data Demands
Fast connectivity speeds and the creation of vast digital infrastructures have played a key role in economic growth worldwide. Industries rely on their ability to implement new programs efficiently and access data quickly in order to function. With the right technological infrastructure, companies can equip themselves to optimize the caliber of the services they provide while also making their workflow management high-functioning and cost-effective.
As more and more companies utilize innovative technology to drive their operations, there has been a big spike in demand for data and networking solutions. Fiber optics are one of the primary means by which companies can avail themselves of the indispensable resources that they need to carry out their day-to-day activities and strive for growth. Using this material, broadband providers are able to deliver faster service and transmit larger volumes of data. In fact, fiber optic cabling is capable of routing massive quantities of information at astounding speeds that approximate 70% of the speed of light.
With so many companies adopting cloud-based solutions to host workflow management programs and drive customer service functions, data demands have seen parabolic growth. Networking and data demands around the world will foreseeably continue climbing in the years ahead, and fiber optics are helping broadband providers meet them. By 2027, the fiber optics industry is projected to reach over 8.2 billion dollars worldwide.
Safeguarding Connectivity
If a satellite or other remote piece of infrastructure has a service outage, restoring it can be an enormously costly and time-consuming undertaking. In parts of the world where internet service providers have enjoyed singular monopolies, a technical problem on their end could bring all companies' online activities and all individuals' use of the internet to a screeching halt. The repercussions of outages can have long-term fallout for carriers, and the cost they would need to put into repairs could hinder their ability to allocate capital towards improving or expanding services.
One noteworthy reason why fiber optics are gaining traction globally is that they are resilient against physical damage, weather-related signal distortion, and cyber events that derail connectivity. Subsea cabling offers a great way to secure communication lines across continents and keep remote regions connected. The process of laying subsea cabling can be costly, but it is a great investment for communication service providers that want to lay a solid foundation. Using this material enables them to enhance and adapt connectivity with minimal risk of having to undertake frequent, expensive repairs.
Consistency in the availability of service is integral to its overall utility and value. With strong data and networking infrastructure through fiber optics, there will be fewer incidences of outages. Resultantly, internet access is going to be a more stable, meaningful resource for businesses and individuals throughout the world.
To learn more about fiber optic technology and how it can benefit your business, contact V1 Fiber today. We are ready to assist companies across multiple industries with development initiatives to modernize and expand communications infrastructure.
---
Viasat says KA-SAT outage likely caused by a "cyber event" (thestack.technology)
The Case for Fiber to the Home, Today: Why Fiber is a Superior Medium for 21st Century Broadband | Electronic Frontier Foundation (eff.org)
Why fiber-optic Internet is a long term, future-proof solution | WRAL TechWire
What Is Fiber Optics? Here's What You Need to Know (businessinsider.com)
The Worldwide Fiber Optics Industry is Expected to Reach (globenewswire.com)
The Interconnected World Places New Demands on Data Center Infrastructure: Are You Prepared? | Data Center Frontier